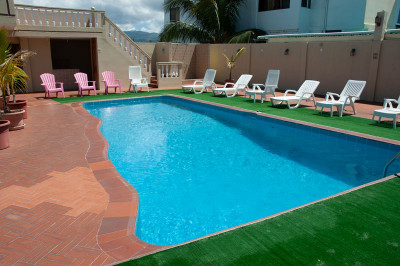 Hotel Red Booby Itinerarios
The Hotel Red Booby is ideally located in the center of the city of Puerto Ayora on Santa Cruz Island, five minutes from the Malecon (the dock), situated on Avenida Plazas and Charles Binford. Category by MINTUR: *** Stars. Also, enjoy our delicious American Red Booby breakfast during your stay at the hotel.
Characteristics
It has 27 rooms.
It has single, double, triple and quadruple rooms.
Type of beds: King size, full size, and twin size
The rooms have the following: air conditioning, private bathroom, hot water, cable channels, television, free amenities, individual telephone in each place.
Services
Swimming pool on the terrace
Security box at front desk
Wi-Fi in hotel rooms and areas/li>
Living areas and Events Room/li>
Filtered water to recharge
BBQ with payment
Laundry service with payment
Transfer In / Out services with payment
For more information visit the following page: www.hotelredbooby.com.ec
Tour 360